A guide to buying your first folding bike - must have features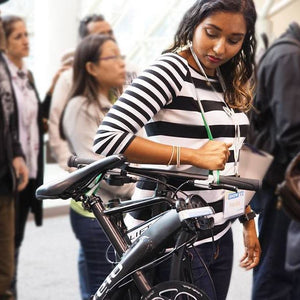 In addition to weight, performance, size, when buying your folding bike, look for a bike that takes just seconds to fold, roll when folded, handlebar that rotates for ease of walking and storage/theft prevention, anti-lock braking, solid fit, and industry standard parts.
Well designed and equipped folding bikes can make all the difference.  Here are some unique features that are very important to consider when buying your first folding bike.
1) Ease of folding and unfolding. Folding bikes can only live up to their potential if they are really easy to fold and unfold.  Imagine rushing up to catch a bus and keeping the driver waiting while you fold up the bike.  Look for bikes that only take seconds to fold.  And as for ease - look for bikes that do not require you to have to kneel or bend down to fiddle with knobs etc. in order to fold/unfold. 
2) Ease of maneuvering the bike once it's folded.  Check out the ability to maneuver the bike once it is folded.  The best designed folding bikes will allow you to roll your folded bike along with great agility - which you'll need to navigate around crowds while getting off the subway.  Folded bikes which roll on its bike wheels will be much more agile and can roll faster than bikes which use add-on luggage wheels.
3) Ease of maneuvering the bike when unfolded.  When unfolded, most folding bikes become as awkward to maneuver as full size bikes with the handle bar taking up much space when walking on the sidewalk or getting into elevators.  Look for folding bikes which have handlebars that can rotate out of the way so you can glide the bike easily in and out of crowds, into shops etc. without getting "confrontational" stares.  Imaging being able to walk your bike, with the handlebar rotated so it's as narrow as your saddle, guiding the bike with just one hand on the grip, leaving the other free to hold your coffee or walk your kid to school.  Being easy to maneuver also means you'll take your bike more places with you, keeping it at your side or storing it flat indoors to keep it safe from theft.
4) Extra safety with wheels that don't lock up when braking.  Look for a bike that has anti-lock braking so you can confidently hard-brake without worry of going over the handlebars.  Your every day ride will be less jarring too and much smoother at each stop.
5) Ergonomic and solid fit.  Folding bikes are one-size fits all.  So, it's important to look for bikes that adjusts ergonomically as you move the handlebar and seat post up or down.  Most folding bike designs have the handlebar folding at the fork which limits the angle for adjusting the handlebar. Look for a folding bike with a conventional fork stem configuration of full size bikes for better ergonomics and a solid fit.
6) Ease of maintenance and lower cost of ownership.  Look for folding bikes which use industry standard parts and components - wheels, tubes, saddles, accessories etc.  This will enable you to customize your bike, and have it serviced anywhere in the world without being dependent on expensive proprietary parts that may also have a long wait time. 
7) Ease of carrying.  Most folding bikes need to be carried with a big, heavy bike bag since the bag must be capable of holding the weight of the bike.  Look for folding bikes that are designed to be easy to carry over the shoulders with just a strap.  Imagine the ease of being able to carry your bike off the train, tuck the strap in your back pack, and ride away without needing to worry about what to do with the bike bag.
Well designed and high performing folding bikes do transform lives, reduce stress, and deliver on the all the benefits of convenience, joy, and sustainable travel.   
The Revelo LIFT Creation Story demonstrates the importance of these features and sets a new standard for folding bikes.
Hope you found this guide useful and happy riding!
Leave a comment
Comments will be approved before showing up.