LIFT lets me take the gym outside!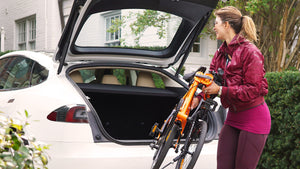 Leslie from Toronto is an active individual with a busy family schedule.  She purchased two LIFT 20" Sport folding bikes to keep handy in the family Tesla.  "I want to take my gym outside!" says Leslie and the LIFTs allow her and her kids to get out and riding whenever the opportunities arise.  Here is her story:
Since I traded in my SUV for a Tesla my bike riding had become pretty rare - the SUV held my bike in the back and I could just whip it out when needed. I traded the SUV for a Tesla and didn't want to damage the vehicle using bike racks, so I opted for fold-up bike technology and the Revelo is the Gold Standard! After dropping the kids off at school I take it from my trunk and go for a quick bike ride - less time than lugging back and forth to the gym. Folding is easy and the ride is smooth and comfortable. The anti-lock breaks are good for street-riding, I've had to dodge a few squirrels. I bike for about 30 min, 2 or 3 times a week -except winter. Very happy with my Revelo, I bought another one for my son who thinks it's cool and we go bike riding together. Both can fit into the trunk - amazing! Its added new dimension to my life, a great purchase.
Leave a comment
Comments will be approved before showing up.
Liquid error (layout/theme line 283): Could not find asset snippets/spurit_uev-theme-snippet.liquid