Anti-lock brakes for Road Bikes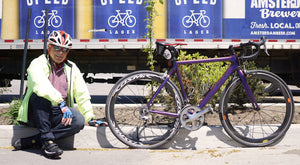 Fritz from Toronto is an avid road bike rider, he frequently participates in group rides that are 50-100km in length. His favorite bike is his Klein Quantum road bike equipped with Shimano Dura-Ace. Last summer he upgraded his front braking system with SABS anti-lock brake pads. Here is Fritz's story:
"I've always been fascinated with new bike technology, and I had never heard of anti-lock braking for bicycles before. Once I discovered them I knew I had to try them. I must say I was very skeptical if these would make any difference, or work at all. Now that I've been riding for several months with them, I would say that they are in a word remarkable!"
"I've got a disc-equipped Merida road bike that I keep in Austria. My feeling is the SABS pads modulate as well as my disc brakes, but have the added performance and safety enhancement that comes with anti-lock braking. One example I recall on a group ride was a steep descent with a quick switchback turn at the bottom. Normally I'd have lost tons of momentum setting up my turn, but with SABS I was able to transition up the hill while my friends squealed their disc breaks to safely slow down before the turn. I'd recommend putting SABS on your road bike if you're looking for improved safety, bike control, and smoother braking." 
"Here is what I like about SABS on my road bike:
1. Anti-lock braking has made me feel much safer on my bike
2. I cannot get my bike to flip over as much as I try :D
3. It really helps in turns for better traction and control 
4. It's quick to install
5. It's very silent and imperceptible
6. Brings really useful new technology to my old beloved bike!
7. The pads are fully mechanical and don't require any electricity or maintenance 
Here's what I don't like:
1. Adds a little bit of weight, roughly 100 grams but honestly, I don't notice it 
2. It looks a bit unusual on my road bike
3. They are a little pricey but in my opinion well worth it"
Leave a comment
Comments will be approved before showing up.