Packing a 16" LIFT into a Suitcase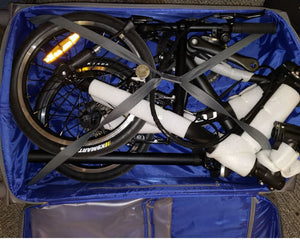 Sharing these tips, some from our customers who have taken their 16" LIFT on their travels, on how to pack a 16" LIFT into a suitcase.  
No need to take the wheels off.
You'd need to line your suitcase with cardboard to protect your bike when transporting it in the suitcase.
Suitcase dimensions should be softcase/expandable with interior packing room of 29"H x 12.25"D x 19.5"W such as this one.  Exterior Approx. Dimensions: 32.75"H x 12.25"D x 20"W.
Click here for full instructions for packing and unpacking.
Check the suitcase in as FRAGILE.
If you've traveled with your LIFT, share your tips and we will add them here.
Happy travels!
Leave a comment
Comments will be approved before showing up.
Liquid error (layout/theme line 283): Could not find asset snippets/spurit_uev-theme-snippet.liquid