Protecting and storing your ebike with THINstem rotating handlebar system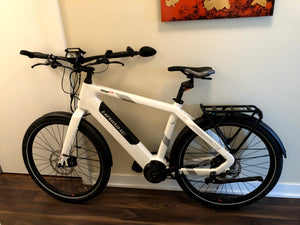 PROTECTING AND STORING YOUR EBIKE WITH THINSTEM
It's a great time for eco-friendly commuters.  Many have figured out ways to reduce their dependency on cars by incorporating more bike riding.  This is not only good for the environment but usually is saves on cost and time.  Patrick from Montreal decided to make e-biking his primary mode of travel. He invested in a high-end $4K Haibike Urban Plus.   The bike is capable of pedal assist speeds up to 45km/h!  After investing in bags and riding gear, the final challenge was to make the bike fit into his condo and work environment.  It needed to take up as little space as possible and provide theft protection by storing the bike indoors. This was especially important for the hours spent charging.  
Patrick discovered THINstem and it was perfect solution! We shipped him an OS 31.8x90mm THINstem and alloy folding pedals.
Patrick was kind enough to document the conversion of his ebike to a THIN bike.  Here is his story:
"So, after a few hundreds km since we last emailed, I'm happy to report that the THINstem lives up to its expectations. Makes it really easy to maneuver in and out of my place and work. Very solid while riding and no issue so far - even at 40km/h +. Very nice addition to my bike that's for sure. I even gave good words on my electric bike forums."
Below: Patrick's Haibike setup was very wide and occupied a large footprint in his condo!
 The Haibike comes with a powerful light and phone holder above the stem.
Below:  Easy as 1, 2, and 3.
1. Remove original stem and handlebar.
2. Install THINstem onto fork.
3. Remove the THINstem top plate and install handlebar system and enjoy saving over 60% valuable space in your home.  Keep your bike safe, charged, and ready to ride!
Leave a comment
Comments will be approved before showing up.