A Smart Solution to Bike/eBike Storage/Parking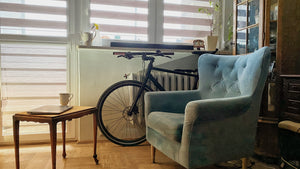 Cities are facing a bike parking (and a bike theft) problem.  New York City is just one example where 1.6 million riders compete for 56,000 bike parking spots. 
Revelo THINstem is a portable bike/ebike storage solutions can go everywhere your bike goes.  No drilling. No mounts. Easy, accessible, and prevents bike theft. One solution that works everywhere - at home, at work, and even on the go.
The problem with bikes and ebikes is the space they take up.  While handlebars are getting wider, living spaces are getting smaller.
There are many bike storage solutions like wall mounts, vertical bike racks, ceiling suspension systems, outdoor storage bins etc. which all require installation.  These solutions are static since they can only service one location per installation.  The bikes typically need to be secured to the storage mount making it less convenient for frequent use of the bikes. Some of the solutions also require much strength to hoist the bike up/down or in/out of the mount.  
THINstem rotates your handlebar 90 degrees to store your bike flat and out of the way - anywhere.  By replacing your bike's handlebar stem with THINstem, you now have a bike storage solution that is built into your bike.  Take your bike inside, store it by the take out counter, in your hallway, by your desk - anywhere there is a sliver of narrow free floor space!
THINstem is also a great solution to store ebikes indoors for charging.
Bonus: What is the solution when you need to walk your bike from point A to B...while browsing through outdoor markets, getting off a ferry etc.?  With THINstem, just rotate your handlebar and walk your bike in THIN-mode; navigate your bike one-handed and glide easily through any crowd.
No drilling.  No mounts.  Conveniently portable. 
Revelo THINstem is a built-in storage solution to easily store your bike anywhere. 
THINstem is designed in Canada, patented and ISO tested and is being used on all kinds of bikes, all over the world.
Check it out: https://www.revelo.ca/pages/thinstem
Leave a comment
Comments will be approved before showing up.