LIFT vs Strida, an Owner's Story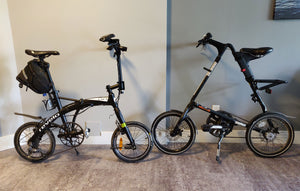 In July, Doug from Burnaby B.C. ordered a customized 16" LIFT Pro with a 56 tooth chainring and riser bars to replace his Strida as his primary commuter. He was kind enough to share his thoughts on the two vehicles. Here is his story:
Background
 I've been riding my Strida folding bike in Vancouver BC for a couple of years; bought my LIFT about 2 months ago and now the latter is my main bike. I also have a hybrid bike and road bike (both of which I will probably now sell).
What I Like About My LIFT
Quite upright position (for me, with the riser bars; I'm ~5'11"). It's very nimble. Feels like driving a sports car compared to driving an ordinary car. Easy to get on/off of.
Gearing overall is quite good for the city; low gear works on even the steepest hills I encounter. Seems to be easier than on my hybrid (21-speed Peugeot). It's quite light, I can use one arm to carry it down the stairwell. Good-looking. I get quite a few comments about "nice bike".
What I Don't Like About My LIFT
(Not a biggie) The highest gear could be higher. If you get the riser bars, the cables might not be as long as you need them to be. In theory, I could raise the handlebars another 2 cm, but even at their current height, if I turn the front wheel at, say, 90 degrees, quite often I need to wiggle the cables - the front brakes tighten up. Longer cables should prevent this, I believe. (Not a biggie) Tires are quite slick, so have to be fairly careful on patches of gravel or sand.
Where the LIFT has the Advantage Over Strida
More comfortable overall, more gears, more standard parts; bike shops are more familiar with the design/components used. You can put a suspension seatpost, if you want. (On the Strida, there's no traditional seatpost.) Seems to be mechanically more reliable (the reason I say "seems" is that I've had the LIFT only for a couple of months; the STRIDA - a couple of years; but so far no problems with the LIFT). It's Lighter.
Where the Strida has the Advantage Over LIFT
Faster, easier folding (< 10 seconds; maybe even < 5). In theory, less maintenance (has an internal hub, and a kevlar belt - no chain or gears to oil/replace). That being said, I've had to replace my internal hub AND the belt (the latter not due to wear/overuse, but due to getting twisted - long story; I'm told that this problem should be less likely with the 18" wheels - before, I had the 16" wheels). Seems a bit easier to roll when folded than the LIFT (although wrist may tire easier - the Strida is heavier than the LIFT). It's a bit more upright of a riding position than on the LIFT (but the LIFT is still comfy). The tires have more tread, so a bit better for riding through gravel or sand.
What I Don't Like About My Strida
Reliability isn't the greatest, at least in my experience. It's harder to get on it. 3 gears can be a bit challenging if you have steep hills. The 16-inch wheel model is better than the 18", but I had spokes break several times with the 16" wheels. (The spokes on the 16" wheels are quite short - < 13cm).
Leave a comment
Comments will be approved before showing up.