Revelo At 2019 Toronto International Bike Show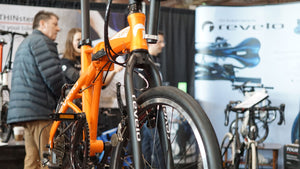 For over 30 years Toronto has demonstrated its strong bike culture with the spring Toronto International Bike Show the first weekend of March. Revelo unveiled its 2019 16" and 20" LIFT folding bike models equipped with exclusive SABS Anti-Lock Braking for bicycles. Visitors were impressed by the innovation, performance and beauty of Revelo bikes! 
SABS Anti-Lock braking for bicycles is a game changer for enhancing safety and control. Test riders could not believe how perfectly it functioned to prevent going over the handlebars and to prevent skidding while cornering under hard braking.  Revelo has been offering SABS since 2013 and it has worked flawlessly every time!
The new THINstem for oversize handlebars (31.8mm) received more than a few WOWs for its robust design and elegant approach to solving the problem of fitting full-size bikes into small spaces like condos, elevators, and offices. Many ebike owners even had their new bikes switch to THINstem at the show!
Attendees told us that the LIFT and the upcoming 700c TOUR model would be ideal not just for city living but for travel and vacations especially when fitted inside a standard 29-inch suitcase! They were impressed that all Revelo products are original and designed in Toronto!
Leave a comment
Comments will be approved before showing up.
Liquid error (layout/theme line 283): Could not find asset snippets/spurit_uev-theme-snippet.liquid